Essential Oil Dilution for Beginners
Have you ever wondered why essential oils come in the tiny bottles that they do?
That's because a
 single drop of essential oil contains an incredible concentration of herbal properties, so all this plant potential must be dispersed to levels that are safe for our bodies to process.
Over the years essential oils have become quite popular amongst natural-living and body care enthusiasts and because of this so has the number of inquiries we receive about how to incorporate safe levels of essential oils into homemade creations. That's why we've assembled some simple guidelines and tools to get new users off to an encouraging (and safe!) start.

Carrier Oils... what are they?
In order to dilute essential oils you will need a carrier oil. Carrier oils provide multiple benefits in essential oil use. Not only does a carrier oil help to dilute potent essential oils to help protect against skin irritation, but it also helps to extend the use of the essential oil, manage the absorption rate, and cover a larger area of skin or another surface. 
Carrier oils are oils that are combined with essential oils to help dilute the essential oil's potency and alter the absorption rate, enabling safer topical use. They can also allow you to apply an essential oil to a larger area by providing a larger amount of an easy-to-spread base. Finally, carrier oils are beneficial in helping to slow the rate of evaporation, extending the positive impacts of the oil. 
Here are the 5 most common carrier oils.
YOUR GUIDE TO DILUTING ESSENTIAL OILS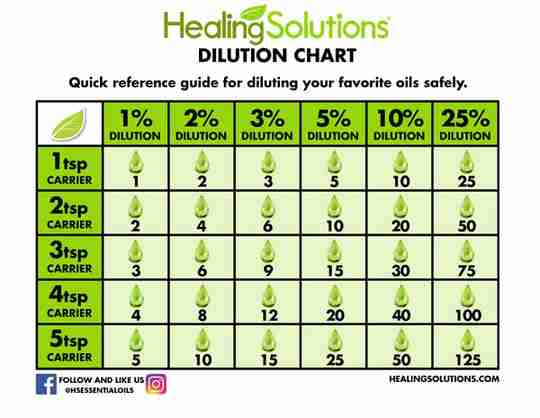 How much or how little essential oils to use depends on what your purpose is. Here is a brief guide to dilution of essential oils:
.25% Dilution = 1 drop per 4 teaspoons of carrier oil
This is ideal for those who intend to use an essential oil on children 6 months to 6 years of age. Note: It is recommended that you do not use essential oils on children under the age of 2 unless directed by your healthcare provider.

1% Dilution = 1 drop per teaspoon of carrier oil or 5-6 drops per ounce.
This percentage is recommended for those children over the age of 6, pregnant women, elderly adults, people with a sensitive skin type, and those with preexisting conditions.
This is the dilution recommended when using essential oils topically, for massage or in lotions and rubs.

2% Dilution = 2 drops per teaspoon of carrier oil or 10-12 drops per ounce.
This is ideal for most normal adults. For use in daily aromatherapy or topical application.

3% Dilution = 3 drops per teaspoon of carrier oil or 15-18 drops per ounce.
This is ideal for treating temporary health concerns and topical application for muscle pain, injury or respiratory problems.


25% Dilution = 25 drops per teaspoon of carrier oil or 125-150 drops per ounce.
There are many essential oils that can be used at this strength. Some can even be used with no dilution, or "neat."

This dilution percentage is recommended for use with healthy adults, and still we advise that you use caution as some people will notice irritation or increased sensitivity to oils at this potency.
When you are shopping for essential oils you might see labels like "Pure," "All-Natural," or "Therapeutic Grade." What you may not know is that these claims are not always completely true. Today, essential oil companies can get away with adding all kinds of fillers, artificial additives and even water to their products in order to shave costs off of their bottom line. That means that when you think you're getting a potent, pure and medicinal quality oil - what you are really getting isn't even essential oils at all!

At Healing Solutions we truly value the health and happiness of our loyal customers as well as new shoppers. That's why every single batch of essential oils we make is tested, verified and certified 100% pure and unadulterated, so that you get the results you expect when using them for health purposes.
CHECK OUT OUR MOST POPULAR POSTS