How to Make Your Own All-Natural Disinfectant Spray with Essential Oils
So many disinfectants on the market use harsh chemicals to eradicate germs.
The good news is that there is a natural, homemade solution to store-bought cleanser.
The secret ingredient in this recipe is the essential oil.
In addition to the fragrance of these healing oils enhancing the cleaning experience, they have also been known to reduce stress in many and may help to promote a sense of relaxation in your body and your mind.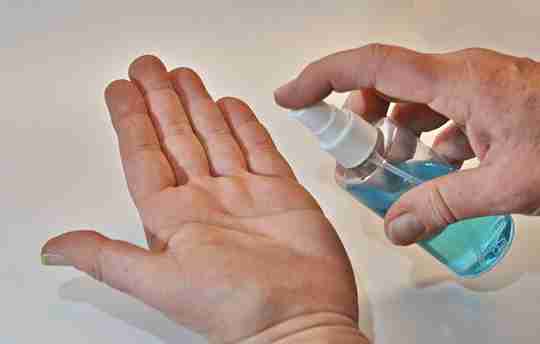 To start, you'll need vinegar (regular white vinegar tends to be cheaper than apple cider vinegar but either will work), water, and the essential oil(s) of your choice. Mix one part vinegar with one part water and add about two dozen drops of essential oil for every 16oz of liquid.
3/4 cup distilled water
1/4 cup white vinegar
8 ounces spray bottle
14 drops of your chosen pure essential oil
Now Let's Customize This To Your Liking
This recipe is super easy to customize. If you want a bigger disinfectant punch, add a bit more vinegar. For a lighter cleaning job, up the amount of water. A variety of essential oils also work well with this recipe so it's easy to adapt to your cleaning goals.

WHICH ESSENTIAL OILS ARE BEST FOR CLEANING?
Bathrooms
If you are planning to use this disinfectant in the bathroom, tea tree or eucalyptus are great for killing nasty toilet odors as well as helping to knock out bacteria. Pine can freshen up floors and tile. Lavender is perfect for bathtubs and showers.
Kitchen
Lemon is traditionally used in kitchen cleaners because of its ability to neutralize unpleasant kitchen smells. Other great options for all-purpose kitchen cleaning include basil, rosemary, and tangerine. During the holidays, a few drops of cinnamon will have your kitchen smelling cheery.
Living/Dining Rooms 
In parts of the house where odor elimination is not a high priority, the more subtle scents of sweet orange, chamomile, and vanilla provide a soothing and homey ambiance. A citrus essential oil is great for cutting through window grime and other hard-to-clean surfaces.
NOW GO TRY IT FOR YOURSELF!
With this recipe you can help keep your home clean and your family healthy when the cold weather rears its ugly head this winter.
If your oil collection needs some bulking up, have a look at some of the Healing Solutions Starter Sets!
When you are shopping for essential oils you might see labels like "Pure," "All-Natural," or "Therapeutic Grade." What you may not know is that these claims are not always completely true. Today, essential oil companies can get away with adding all kinds of fillers, artificial additives and even water to their products in order to shave costs off of their bottom line. That means that when you think you're getting a potent, pure and medicinal quality oil - what you are really getting isn't even essential oils at all!
At Healing Solutions we truly value the health and happiness of our loyal customers as well as new shoppers. That's why every single batch of essential oils we make is tested, verified and certified 100% pure and unadulterated, so that you get the results you expect when using them for health purposes.