How To Determine the Quality of Essential Oils (and How To Spot The Fakes!)
Not sure how to spot fake oils from real ones?
Here are 3 quick tips you can use to make sure you're oils are what they claim to be.

1. Pure essential oils are stored in dark amber glass bottles. 
When looking for a reliable essential oil supplier, take note of where and how the essential oils are stored. Essential oils are typically sold in dark colored glass containers. The best type of containers to store essential oils are usually amber or dark blue because they can protect the essential oils from ultraviolet rays that might degrade the essential oils in the long run.
2. Pure essential oils do not leave any residue on paper. 
The easiest way to spot if an essential oil is pure or fake would be to conduct a ring test on a white strip of paper.  If a visible ring of residue appears after the essential oil has dried, then you know that the oil has been diluted with a carrier oil. Given its volatile nature, pure essential oils do not leave any residue when it dries.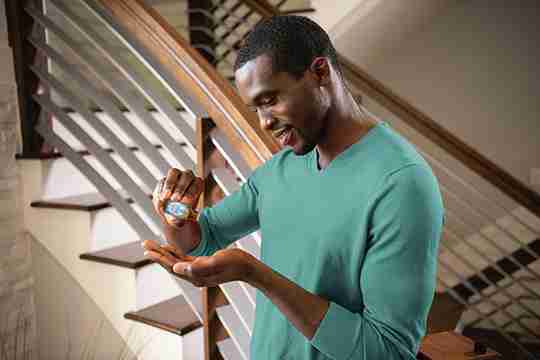 3. Pure essential oil does not feel greasy or oily.
Another experiment you can try would be to test the greasiness of the essential oils by rubbing them between your fingers. If you feel that the essential oil is greasy, it is very likely that a carrier oil, such as jojoba oil, has been added into the essential oil. Carrier oils tend to give essentials oils a silky, oily texture (This is OK if there is supposed to be a carrier oil mixed into the oils such as roll-on sticks, etc). Pure essential oils are quick to absorb into the skin and do not leave a greasy feeling.
When you are shopping for essential oils you might see labels like "Pure," "All-Natural," or "Therapeutic Grade." What you may not know is that these claims are not always completely true. Today, essential oil companies can get away with adding all kinds of fillers, artificial additives and even water to their products in order to shave costs off of their bottom line. That means that when you think you're getting a quality oil - what you are really getting isn't even essential oils at all!
At Healing Solutions we truly value the health and happiness of our loyal customers as well as new shoppers. That's why every single batch of essential oils we make is tested, verified and certified 100% pure and unadulterated, so that you get the results you expect when using them for health purposes.