8 Brilliant Ways To Use Lavender Essential Oil


1. Lavender Bath Oil
For a relaxing, lavender-scented bath, simply add 6-8 drops of lavender oil to your bath water. You can also add the drops to Epsom salts, a few tablespoons of milk, or a carrier oil to extend the benefits of your lavender bath. 
2. All-Natural Shampoo
Making your own homemade, all-natural essential oil shampoo is a great use for your lavender essential oil. Not only is lavender essential oil shampoo fresh and aromatic, but it is also moisturizing, can help soothe an irritated or dry scalp, and can stimulate hair growth.
To make lavender essential oil shampoo, combine ½ cup lavender castile soap, 1 ½ c distilled water, 3 tsp. fractionated coconut oil, and 6-8 drops of lavender essential oil. You can also use 3-4 drops of lavender essential oil and 3-4 drops

3. Body Lotion
Lavender-scented essential oil body lotion is great for use with people who have dry or sensitive skin. Lavender oil body lotion is especially great to use before bed as the scent of lavender can help you fall asleep more quickly and sleep more deeply.
4. Lavender Hair Oil
Use lavender essential oils to make a hair oil that will promote growth, ease skin irritation, offer calming effects and—of course—smell great.
To make, simply mix a few drops of lavender oil into a generous amount of coconut carrier oil and argan carrier oil. Apply the oil to dry hair, wrap in a warm (dry) towel for 30 minutes, then shampoo as usual. 
5. Shaving Cream
Use lavender essential oil for a soothing, calming shaving cream perfect for sensitive skin.
To make lavender essential oil shaving cream, simply warm 2/3 c coconut oil and add 2/3 c Shea butter or Shea nut oil. Once combined, add ¼ c olive oil or grapeseed carrier oil, then add 15-20 drops of lavender oil and 2 tablespoons of baking soda. Place the mixture in the fridge until solid, then use an electric mixer to beat until fluffy. 
Lavender oil is considered to be a safe oil. 
So safe it can be applied "neat," meaning it typically does not need to be diluted and has little to no negative side-effects.

This makes it simple to use in diffusers, topical applications, or other homemade natural remedies. To use topically, simply place a drop on the back of your neck, behind your ear, or on your wrists. You can also place a few drops on your pillow to help improve your quality of sleep. Lavender oil also works well in a diffuser. Simply add 5-7 drops before bedtime for a soothing aroma.
6. Household Cleaner 
Lavender is a great addition to all-natural household cleaners since it smells great and also offers some antimicrobial properties.


To make a simple all-natural essential oil cleaner, use a 16 oz glass spray bottle and combine 30 drops of essential oil (we recommend combining lavender and lemon or lavender and grapefruit), ¼ c white vinegar and 1 ¾ c distilled water. 

7. Wool Dryer Balls
Add a drop of lavender essential oil to a reusable wool dryer ball for an earth-friendly, sweet-smelling reusable lavender dryer ball.  

8. Room Spray
Lavender-scented room spray is another great way to use lavender essential oil. The scent is clean, fresh and calming. Use your room spray in bedrooms or on linens. You can even mix in some of your other favorite scents such as eucalyptus and lemongrass.

To make an essential oil room spray, simply add 30-40 drops of essential oil into a bottle, add 2-3 tablespoons of unscented witch hazel (this helps the oil and water combine and helps the scent last longer), and fill the rest of the bottle with distilled water.

Make sure to use a glass spray bottle as essential oils don't pair well with many plastic bottles.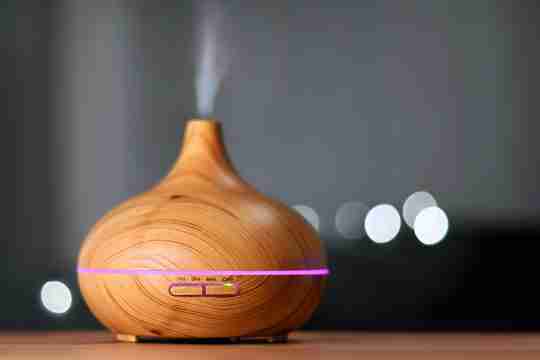 CHECK OUT OUR MOST POPULAR POSTS