Essential Oil Diffuser vs Candle: Which is Best?

Are diffusers better than candles?

In short, yes. If your primary goal is to safely experience the benefits of essential oils throughout your home a diffuser will prove far more successful than an aromatherapy candle. Here's why:

Diffusers Are More Potent 
Diffusers use water vapor to disperse essential oils throughout the space. This means that the oil does not lose many of its beneficial properties during the diffusion process and allows you to receive all the benefits the oil has to offer. 
However, essential oils have a "flash point." This is the temperature at which their chemical makeup begins to change and you start losing the benefits you were seeking in the first place. 
For example, it's recommended that you add scents to your melted candle wax around 160º F for most types of wax. However, popular oils like bergamot, chamomile, lavender, and sweet orange have a flashpoint between 125º-134º F. Meaning that in order to make the candle, the oils begin changing and losing their benefits the moment they are added to melted wax.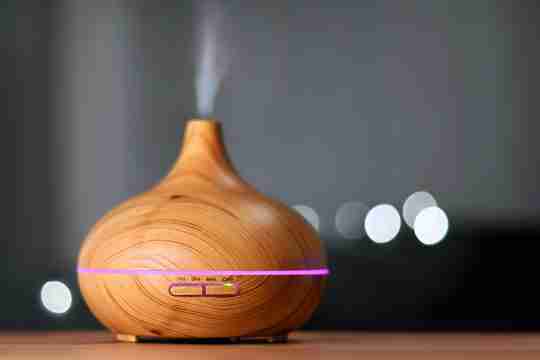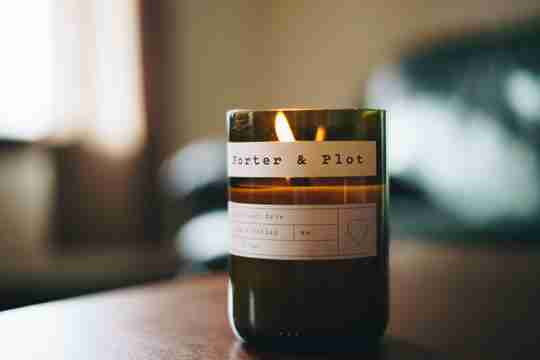 Candles Aren't the Healthiest 
This brings us to the next point – candles are made of numerous compounds that you must burn in order to release in the air. While burning candles in a well-ventilated room and only using them on occasion can help minimize these risks, you were looking for a solution to use regularly. 
Why are candles bad for you?

Candles, even natural ones, are made up of chemicals that are released into the air by burning them. The organic compounds in aromatherapy candles have specifically been linked to an increased risk of cancer.  


 

Similarly, the smoke released from candles has been found to be similar to what's released from a diesel engine. 
 Candles Are a Safety Hazard
Outside of the suspected health risks associated with regular candle usage, you're also dealing with an open flame. This means that a bustling home with toddlers or four-legged fur children can make candle burning a fire hazard. 
One good swish of a dog tail or yank from a curious toddler can lead to burns or fires inside the home. However, the same situation with a diffuser is likely to end in just a puddle on the floor and wasted oils.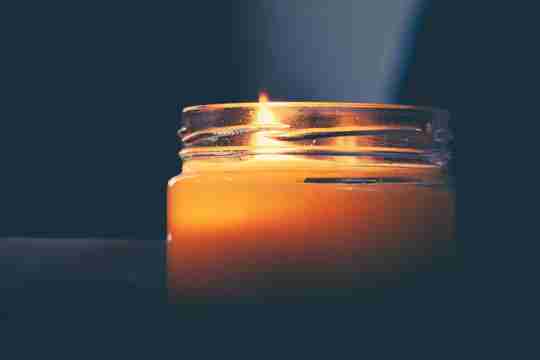 Can you sleep with the diffuser on?

In moderation, approximately 30-60 min on followed by 30-60 min off. If you choose to diffuse steadily for 6-8 hours while you sleep, your body will not only stop benefiting from the essential oils, but likely begin to respond negatively. This effect is discussed in-depth by aromatherapy leader, Robert Tisserand. 

The body will actually force you to do this in a sense by going "nose blind." The technical term is olfactive fatigue and it's the process of your scent receptors "ignoring" lingering smells and focusing on new smells it may need to alert you to.  
Of course, you know what they say about too much of a good thing. Your body can only stay nose blind for so long and will soon begin overcompensating for the essential oils in the air and may disrupt your sleep.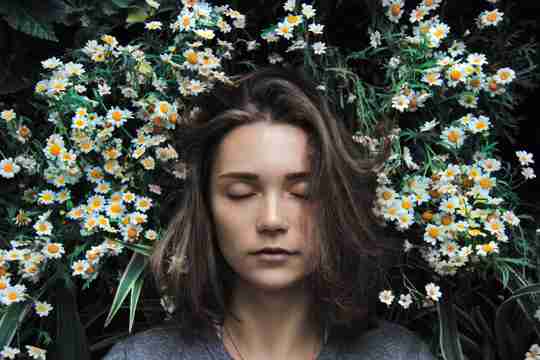 Alternatives to All Night Diffusing 
If you're looking to get the benefits of oil diffusion while you sleep without taking things too far, consider buying a diffuser with a timer or diffusing before you sleep. If you set your diffuser up in a closed bedroom about 30 minutes before you sleep, you'll be able to drift off easier and experience the benefits you were seeking. 
Similarly, most diffusers have built in timers for the recommend 30 min on/30 min off schedule. This allows you to add a few drops of your Good Sleep essential oils blend before nodding off and safely feeling their effects all night long. 
You can also use essential oils prior to falling asleep, like in a bath, to help you get to sleep without over stimulating your nervous system. 
Diffuser vs Candles: Conclusion
For the most benefits and safest use of essential oils, a diffuser is best – especially if you're looking to use oils at night. However, if you want to switch things up on occasion, candles are safe to use in a ventilated space. 
When you are shopping for essential oils you might see labels like "Pure," "All-Natural," or "Therapeutic Grade." What you may not know is that these claims are not always completely true. Today, essential oil companies can get away with adding all kinds of fillers, artificial additives and even water to their products in order to shave costs off of their bottom line. That means that when you think you're getting a potent, pure and medicinal quality oil - what you are really getting isn't even essential oils at all!

At Healing Solutions we truly value the health and happiness of our loyal customers as well as new shoppers. That's why every single batch of essential oils we make is tested, verified and certified 100% pure and unadulterated, so that you get the results you expect when using them for health purposes.
CHECK OUT OUR MOST POPULAR POSTS